FENTY BEAUTY BY RIHANNA Diamond Bomb Baby Mini Lip Gloss and Highlighter Set
$25.00
What it is: A limited-edition set of mini Fenty Beauty favorites: Diamond Bomb + Gloss Bomb team up for show-stopping radiance on the fly.
Ingredient Callouts: This product is cruelty-free
What Else You Need to Know: Glitz out on the go: A travel-friendly set of cult-favorites Diamond Bomb and Gloss Bomb Universal Lip Luminizer in Fu$$y. Take glitter to a whole new extreme with a mini-size Diamond Bomb All-Over Diamond Veil in a shimmering 3D formula that'll leave your face and body crystal-coated. This one-of-a-kind jelly-powder highlighter melts into skin like butter for all-glitz-no-grit finish that decks out every skin tone. The Gloss Bomb Universal Lip Luminizer is the ultimate finishing touch to top off your all-over sparkle in Fu$$y, a soft, romantic pink shade of gloss that feels as good as it looks.
This Set Contains:
– 0.10 oz/ 2.8 g Diamond Bomb All-Over Diamond Veil in How Many Carats?!
– 0.18 oz/ 5.5 mL Gloss Bomb Universal Lip Luminizer in Fu$$y
Related Products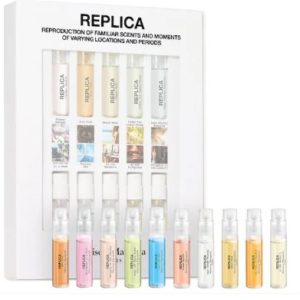 MAISON MARGIELA 'REPLICA' Mini Discovery Set
Fragrance Description: This set contains 10 mini-size fragrances from Maison Margiela's REPLICA Collection:
Lazy Sunday Morning is a classic floral fragrance that recollects the memory of soft, velvety skin enveloped in fresh and comfortable linens through notes of fresh pear, iris, and tender white musk.
Jazz Club is a woody and spicy fragrance that reminisces of an anthology of classic cocktails and coppery tones through balmy, rich notes of rum absolute blended with an underscore of tobacco leaf absolute.
Beach Walk is a modern floral fragrance that evokes the memory of a stroll along the ocean, capturing the sunny scents of a summer day with radiant notes of lemon, coconut milk, and cedarwood.
At the Barber's is a woody, citrusy fragrance that recalls the relaxing memory of a classic, masculine ritual with invigorating notes of basil accord and sensorial lavender.
By the Fireplace is a warm and spicy fragrance that evokes the comforting sensation of a crackling fireplace beside a frosted winter landscape with enveloping notes of clove, chestnut, and vanilla accord.
Relive the delicate and luminous essence of Springtime in a Park through blooming notes of lily of the valley, green blackcurrant, and the fruity effect of pear.
Flower Market is a fresh, floral fragrance that evokes the memory of a Parisian floral shop.
Sailing Day is a fresh fragrance that recalls the memory of soft-rolling waves and the spirit of the sea through aromatic and pure notes of aquatic accord, iris absolute, and red seaweed accord.
Inspired by the memory of a sunny escape in the countryside, Under the Lemon Trees evokes a nap under the trees in the park of an old villa where fresh scents of cypresses and lemon trees float on the balmy breeze.
With Whispers in the Library, feel enchanted with notes of pepper essence blending into a soothing tonka bean absolute and bewitching vanilla inspired by the memory of a day surrounded by beautifully old books.
This Set Contains:
– 10 x 0.07 oz/ 2 mL Eau de Toilettes in Lazy Sunday Morning, Jazz Club, Beach Walk, At the Barber's, By the Fireplace, Springtime in a Park, Flower Market, Sailing Day, Under the Lemon Trees, Whispers in the Library
$

35.00
Buy at Sephora