PAT MCGRATH LABS Mini MatteTrance Lipstick Trio
$25.00
What it is: A trio of lust-worthy mini lipsticks in bestselling shades and a finish so sinful your lips will speak volumes without ever whispering a word.
Ingredient Callouts: Free of parabens.
What Else You Need to Know: MatteTrance™ is a richly-pigmented lipstick with a sensually creamy, powerful pigment that evokes screen siren glamour with every application. Each shade is presented like a jewel in a black-lacquered, couture case fashioned with a sensually surrealist golden lip. Get entrancing color that satisfies with supreme hydration and opulent, matte opacity. This lipstick cloaks lips in a veil of rich color. It's infused with optical diffusers that blur the look of imperfections, combined with a blend of polymers to provide flexibility and adherence. An advanced formulation of spherical particles ensures a soft texture for the smoothest film of color. Each shade is enmeshed in a powder film combined with saturated pigment for lightweight, opaque coverage.
This product is an Allure Best of Beauty Award winner.
This Set Contains:
(Each set sold separately)
Skin Show Trio:
– 3 x 0.042 oz/ 1.2 g Mini MatteTrance Lipstick in Omi (mid-tone rose), 1995 (warm light nude), Flesh 3 (brown rose)
Skin Show V2 Trio:
– 3 x 0.042 oz/ 1.2 g Mini MatteTrance Lipstick in Christy (divine bright beige nude), Beautiful Stranger (coral rose), Flesh 3 (brown rose)
Colour Blitz V2 Trio:
– 3 x 0.042 oz/ 1.2 g Mini MatteTrance Lipstick in Fever Dream (peach sienna), Elson (blue red), Guinevere (blooded crimson)
Related Products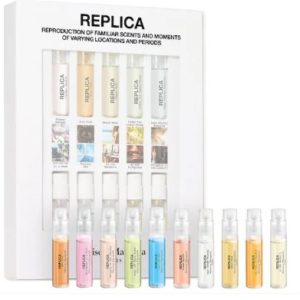 MAISON MARGIELA 'REPLICA' Mini Discovery Set
Fragrance Description: This set contains 10 mini-size fragrances from Maison Margiela's REPLICA Collection:
Lazy Sunday Morning is a classic floral fragrance that recollects the memory of soft, velvety skin enveloped in fresh and comfortable linens through notes of fresh pear, iris, and tender white musk.
Jazz Club is a woody and spicy fragrance that reminisces of an anthology of classic cocktails and coppery tones through balmy, rich notes of rum absolute blended with an underscore of tobacco leaf absolute.
Beach Walk is a modern floral fragrance that evokes the memory of a stroll along the ocean, capturing the sunny scents of a summer day with radiant notes of lemon, coconut milk, and cedarwood.
At the Barber's is a woody, citrusy fragrance that recalls the relaxing memory of a classic, masculine ritual with invigorating notes of basil accord and sensorial lavender.
By the Fireplace is a warm and spicy fragrance that evokes the comforting sensation of a crackling fireplace beside a frosted winter landscape with enveloping notes of clove, chestnut, and vanilla accord.
Relive the delicate and luminous essence of Springtime in a Park through blooming notes of lily of the valley, green blackcurrant, and the fruity effect of pear.
Flower Market is a fresh, floral fragrance that evokes the memory of a Parisian floral shop.
Sailing Day is a fresh fragrance that recalls the memory of soft-rolling waves and the spirit of the sea through aromatic and pure notes of aquatic accord, iris absolute, and red seaweed accord.
Inspired by the memory of a sunny escape in the countryside, Under the Lemon Trees evokes a nap under the trees in the park of an old villa where fresh scents of cypresses and lemon trees float on the balmy breeze.
With Whispers in the Library, feel enchanted with notes of pepper essence blending into a soothing tonka bean absolute and bewitching vanilla inspired by the memory of a day surrounded by beautifully old books.
This Set Contains:
– 10 x 0.07 oz/ 2 mL Eau de Toilettes in Lazy Sunday Morning, Jazz Club, Beach Walk, At the Barber's, By the Fireplace, Springtime in a Park, Flower Market, Sailing Day, Under the Lemon Trees, Whispers in the Library
$

35.00
Buy at Sephora