Goldwell Kerasilk Reconstruct Split Ends Recovery Concentrate
$33.99
Product Details
Kerasilk Reconstruct Split Ends Recovery Concentrate helps nourish dry ends and bind split ends back together. It forms a protective layer around each hair strand for suppleness and healthy shine.
Related Products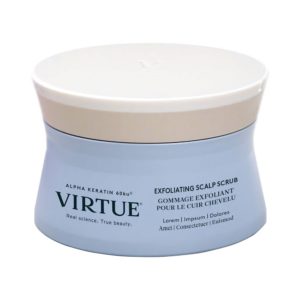 Virtue Exfoliating Scalp Treatment
What it is: A light, dual-action whipped cream that detoxifies the scalp of buildup and impurities while providing residue-free hair conditioning and scalp balancing.
Hair Type: Straight, Wavy, Curly, and Coily
Hair Texture: Fine, Medium, and Thick
Hair Concerns:
– Dryness
– Color Safe
– Flaky/Dry Scalp
Key Benefits:
– Detoxifies
– Rebalances
– Conditions
Highlighted Ingredients:
– Papain and Bromelain: Fruit enzymes that gently slough off dead skin cells.
– Beta Hydroxy Acid (BHA): Gently exfoliates dead skin cells.
– Coconut, Jojoba, and Kalahari Melon Oils: Provide essential hydration for hair and scalp.
Clinical Results: Consumer perception study conducted on 43 respondents immediately, after 24 hours, 1, 2, and 3 weeks, and 1 month of product usage:
– 95% of women immediately felt their scalp was cleaner and hair was more conditioned
– 95% felt their scalp was exfoliated after 24 hours
– 93% felt scalp was fresher, soothed, and healthier after just 1 week
– 93% felt their hair and scalp were more moisturized and hydrated after 1 month of use
$

46.00
BUY AT SEPHORA