ARCONA Wine Oil
$58.00
Details
ARCONA Wine Oil, harnessing the anti-aging power of Resveratrol an anti-oxidant found in the skin of red grapes. ARCONA Wine Oil reverses the appearance of fine lines, wrinkles and other visible signs of aging while nourishing it to increase radiance and improve elasticity. Wine Oil's Grape Seed Oil, rich in Linoleic and Oleic Acids, provides soothing and moisturizing support to the skin. Suitable for all skin types, ideal in dry climates.
Related Products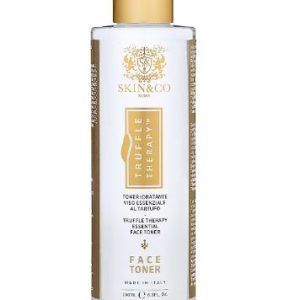 SKIN&CO Truffle Therapy Face Toner
Details
Not your traditional face toner! We have created this toner to cleanse and purify the skin deeply. Formulated with natural extracts of Truffle, Calendula, Rose and Rosemary, we have created a blend to purify pores, while contributing the antiseptic powers of Witch Hazel and Sage to remove dead skin and bacteria to prevent future breakouts, and boosting the skin with extra antioxidants. A toner is an essential part of your beauty routine for healthy, youthful looking skin.
$

27.00
Buy at Ulta