ARCONA Wine Oil
$58.00
Details
ARCONA Wine Oil, harnessing the anti-aging power of Resveratrol an anti-oxidant found in the skin of red grapes. ARCONA Wine Oil reverses the appearance of fine lines, wrinkles and other visible signs of aging while nourishing it to increase radiance and improve elasticity. Wine Oil's Grape Seed Oil, rich in Linoleic and Oleic Acids, provides soothing and moisturizing support to the skin. Suitable for all skin types, ideal in dry climates.
Related Products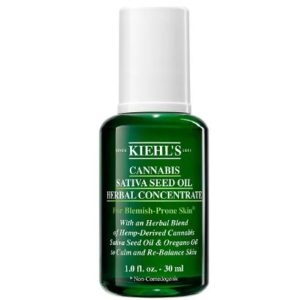 Kiehl's Cannabis Sativa Seed Oil Herbal Concentrate
Details
Cannabis Sativa Seed Oil Herbal concentrate is inspired by Kiehl's heritage as an old-world apothecary, this herbaceous elixir is formulated with 100% naturally-derived** ingredients including cold-pressed Cannabis Sativa Seed Oil and Green Oregano Oil. Uniquely formulated for problem skin such as oily and blemish-prone skin,* this efficacious herbal concentrate for relieving visible redness and the appearance of discomfort. Over time it also helps strengthen skin's barrier to help skin protect itself. With a unique and herbaceous aroma, this non-comedogenic oil helps calm skin with the power of herbs.
*Non-Comedogenic. May be used on Blemish-Prone Skin.
**Kiehl's consider ingredients to be naturally derived if they retain more than 50% of their molecular structure after being processed from a natural source.
$

50.00
Buy at Ulta