SKIN&CO Truffle Therapy Face Toner
$27.00
Details
Not your traditional face toner! We have created this toner to cleanse and purify the skin deeply. Formulated with natural extracts of Truffle, Calendula, Rose and Rosemary, we have created a blend to purify pores, while contributing the antiseptic powers of Witch Hazel and Sage to remove dead skin and bacteria to prevent future breakouts, and boosting the skin with extra antioxidants. A toner is an essential part of your beauty routine for healthy, youthful looking skin.
Related Products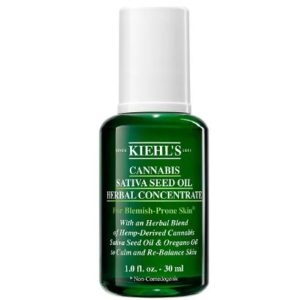 Kiehl's Cannabis Sativa Seed Oil Herbal Concentrate
Details
Cannabis Sativa Seed Oil Herbal concentrate is inspired by Kiehl's heritage as an old-world apothecary, this herbaceous elixir is formulated with 100% naturally-derived** ingredients including cold-pressed Cannabis Sativa Seed Oil and Green Oregano Oil. Uniquely formulated for problem skin such as oily and blemish-prone skin,* this efficacious herbal concentrate for relieving visible redness and the appearance of discomfort. Over time it also helps strengthen skin's barrier to help skin protect itself. With a unique and herbaceous aroma, this non-comedogenic oil helps calm skin with the power of herbs.
*Non-Comedogenic. May be used on Blemish-Prone Skin.
**Kiehl's consider ingredients to be naturally derived if they retain more than 50% of their molecular structure after being processed from a natural source.
$

50.00
Buy at Ulta