FENTY BEAUTY BY RIHANNA Lil Precision Makeup Sponge Duo 105
$18.00
What it is: A set of two mini makeup sponges—a triple-edged sponge for targeted coverage and a dual-edged sponge with a velvety end designed for setting.
Ingredient Callouts: This product is cruelty-free.
What Else You Need to Know: Cover all your blending needs. The triple-edge sponge has a tear-drop point for maximum precision in the toughest-to-reach areas. The dual-edged sponge has a slanted edge for controlled stippling, as well as an innovative velvety end made specifically for applying setting powder.
This Set Contains:
– Triple-Edge Sponge
– Dual-Ended Sponge
Related Products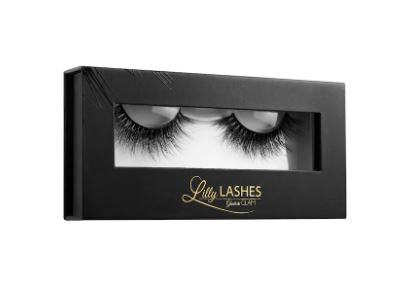 LILLY LASHES Lilly Lashes 3D Mink
What it is: A luxurious and glamourous pair of handcrafted false eyelashes that flawlessly blend in with your natural lashes instantly adding length, volume, and definition.
What it does:
Using the highest quality material in the industry, these superior ultra-wispy, dramatic, 3D mink lash styles are uniquely designed by strategically placing two layers of fine hair to a thick and flexible lash band to seamlessly infuse a bold multi-dimensional effect to your eye while instantly adding sensuous length and volume.
What Else You Need to Know:
With proper care, each lash can be reused up to 25 times. Never rinse or soak lashes in water or any type of solution. Re-attach to lash tray when not in use to preserve and protect lash and lash shape.
Hollywood: This round wispy lash is true classic elegance adding bold symmetrical length and volume to the eye.
Doha: This sultry ultra-wispy flare lash adds gradual length and volume with the perfect touch of boldness for a naturally full finish.
Miami: This lash is the brand's global #1 bestseller. The beautiful, multi-dimensional, round lash style is ultra-wispy, adding an evenly disbursed amount of volume and length.
Mykonos: This sexy, round lash style delivers the optimal level of drama; adding density, fullness and ultra-bold length.
$

30.00
Buy at Sephora