SEPHORA COLLECTION Face the Day: Full Face Brush Se
$49.00
What it is:
A six-piece brush set designed to give you a complete look in minutes.
What it does:
This chic trifold travel case houses all the tools needed to get a finished look in minutes. It features custom slots for each item within a sleek design that is perfect for travel. The easy-to-use brushes and included how-to card help achieve a polished application on the fly every time.
This Set Contains:
– Powder brush
– Foundation brush
– Large Shadow brush
– Large Brow brush
– Smudge brush
– 10cm x 1cm x 19.5cm clutch
Related Products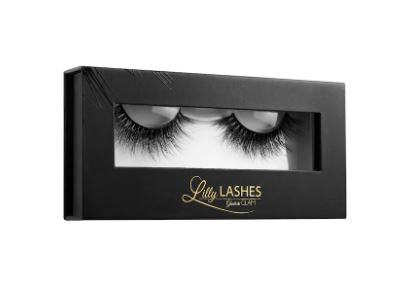 LILLY LASHES Lilly Lashes 3D Mink
What it is: A luxurious and glamourous pair of handcrafted false eyelashes that flawlessly blend in with your natural lashes instantly adding length, volume, and definition.
What it does:
Using the highest quality material in the industry, these superior ultra-wispy, dramatic, 3D mink lash styles are uniquely designed by strategically placing two layers of fine hair to a thick and flexible lash band to seamlessly infuse a bold multi-dimensional effect to your eye while instantly adding sensuous length and volume.
What Else You Need to Know:
With proper care, each lash can be reused up to 25 times. Never rinse or soak lashes in water or any type of solution. Re-attach to lash tray when not in use to preserve and protect lash and lash shape.
Hollywood: This round wispy lash is true classic elegance adding bold symmetrical length and volume to the eye.
Doha: This sultry ultra-wispy flare lash adds gradual length and volume with the perfect touch of boldness for a naturally full finish.
Miami: This lash is the brand's global #1 bestseller. The beautiful, multi-dimensional, round lash style is ultra-wispy, adding an evenly disbursed amount of volume and length.
Mykonos: This sexy, round lash style delivers the optimal level of drama; adding density, fullness and ultra-bold length.
$

30.00
Buy at Sephora